COLOR BALL
A color wheel study done with gouache. I drew out the basketball idea on paper and blew it up on a projector to trace on a larger sheet of paper. I then painted and mixed my colors on separate pieces of paper. Finally I cut them out and glued them together to make a color wheel.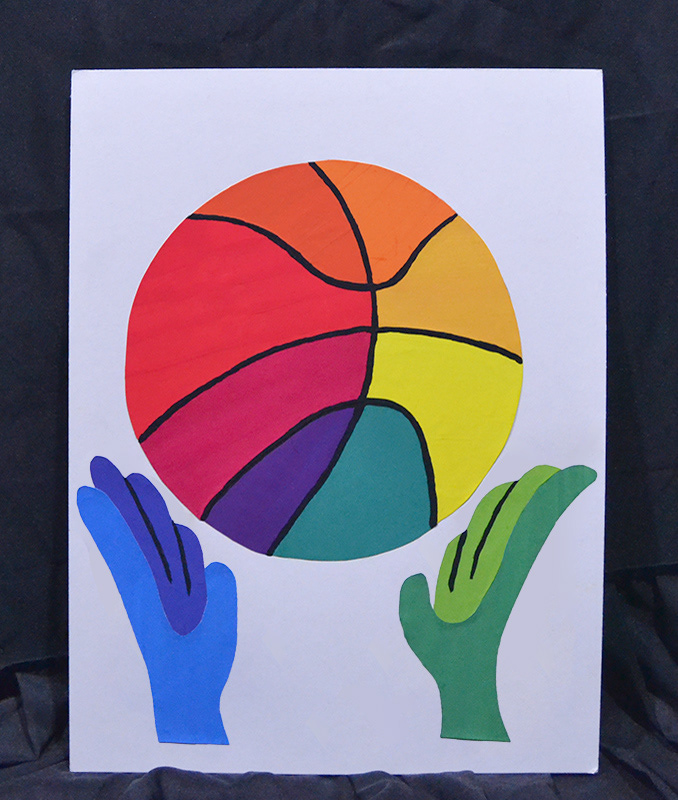 COLOR 96
Recreated a timeless composition (forgot by who) with gouache, using 96 colors on a palette.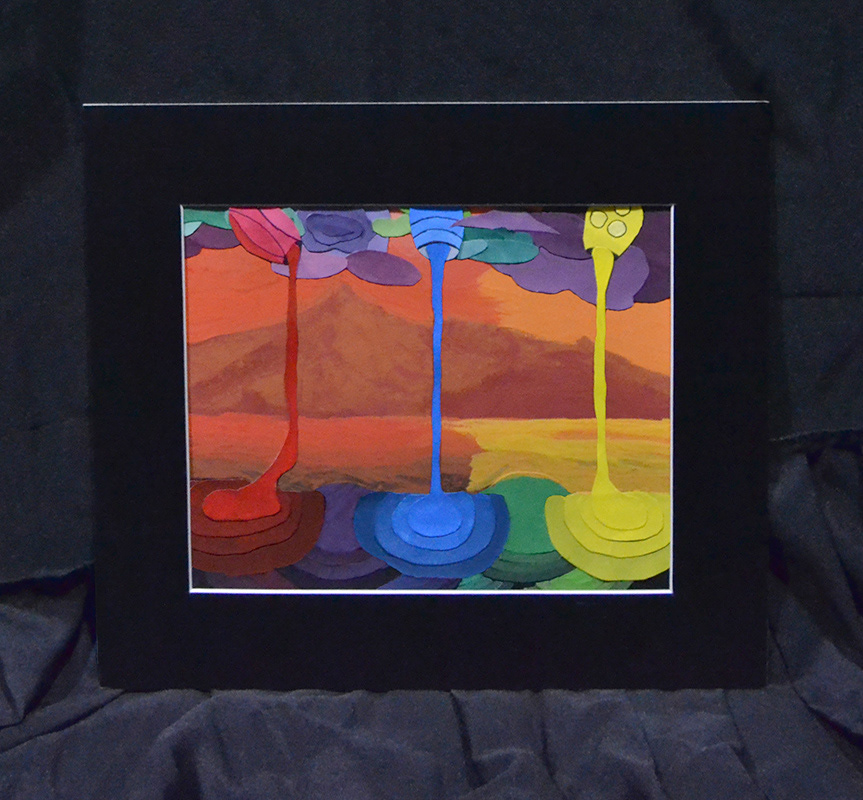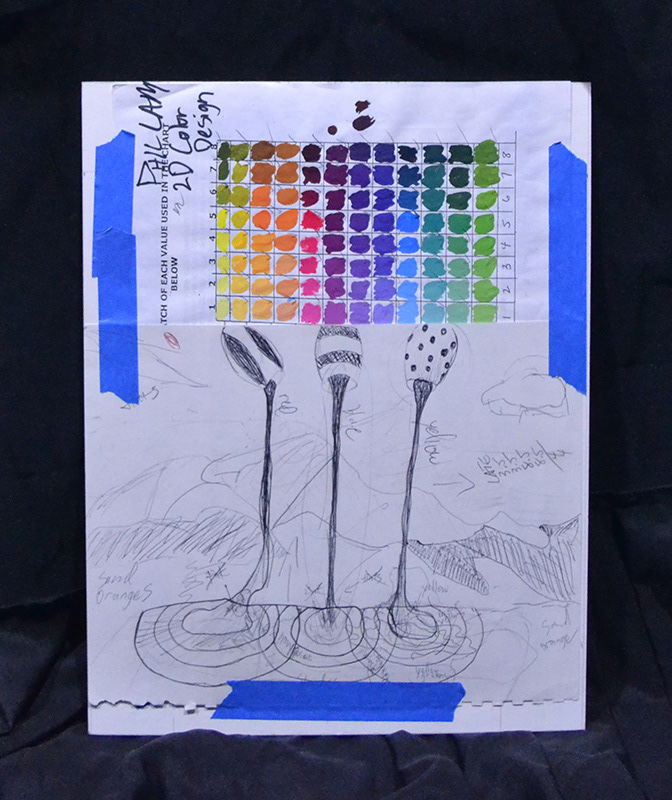 TUNNEL VISION
Monochromatic media project. Medium was construction paper, decorative paper, glossy paper, and newspaper.
APOCALYPTIC
A vase where I incorporated an analogous color scheme. I first took off the finish and original paint using a sand blaster before priming it with gesso. I spray painted it yellow and then painted sections with glossy green paint. I call this Apocalyptic because the composition looks like a disastrous landscape, as if the world was under attack. The evergreen is the foreground, the olive green and lime green are the middleground, and the yellow is the background (sky).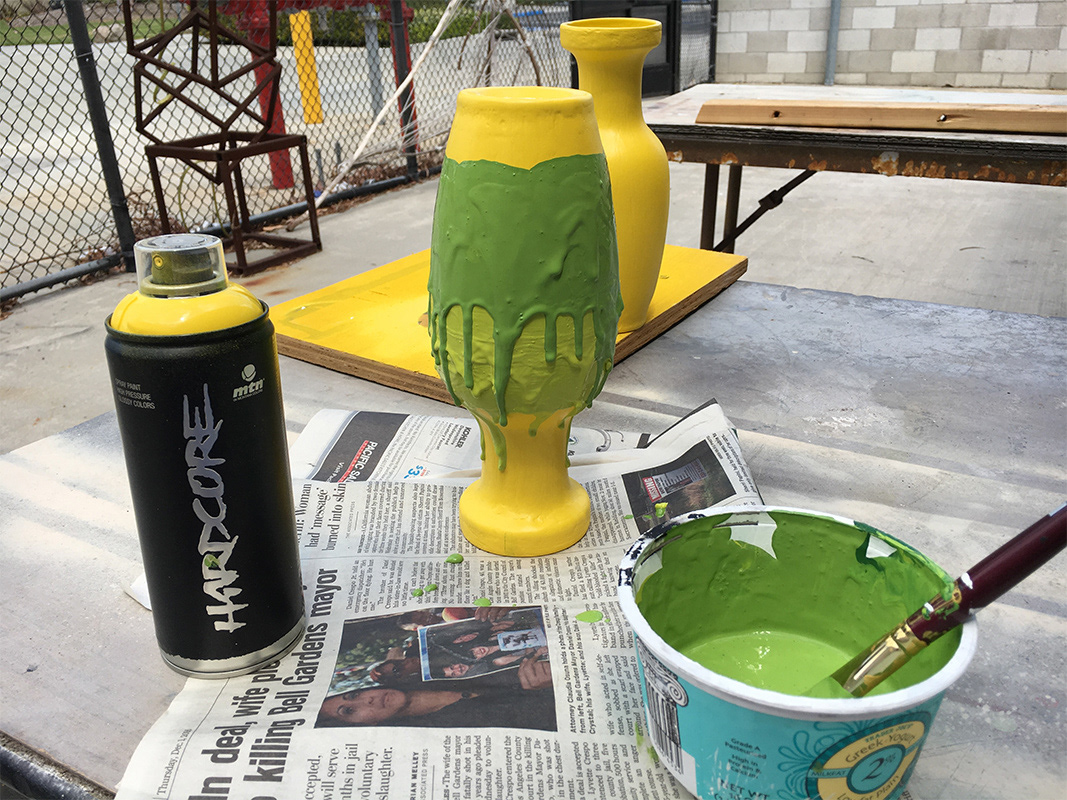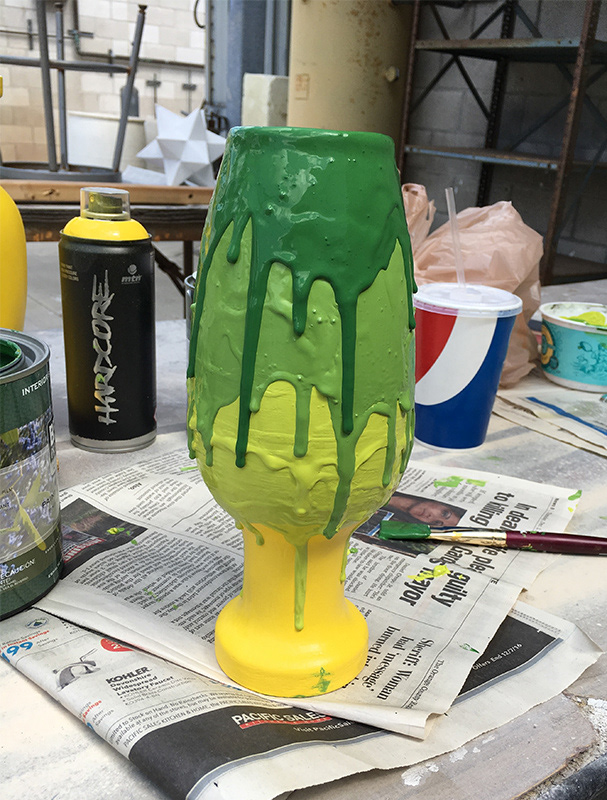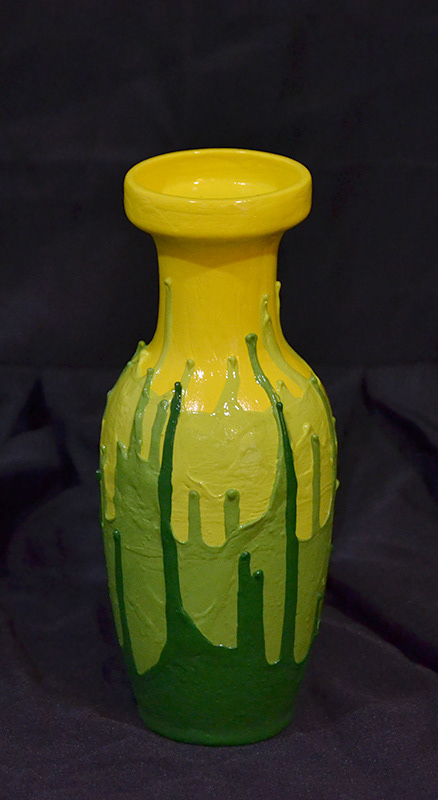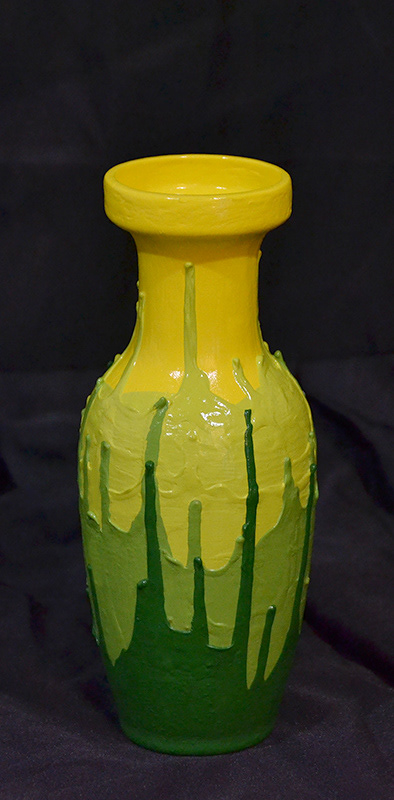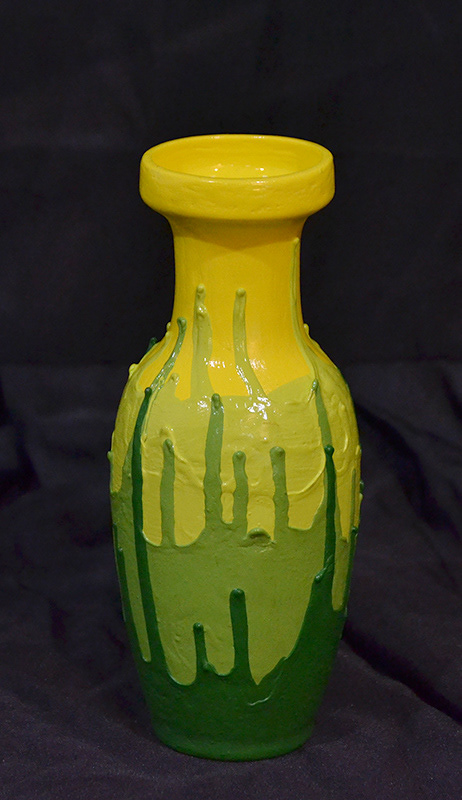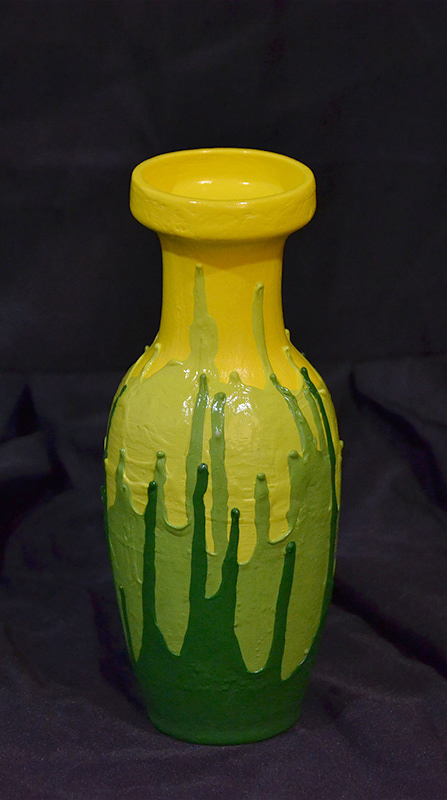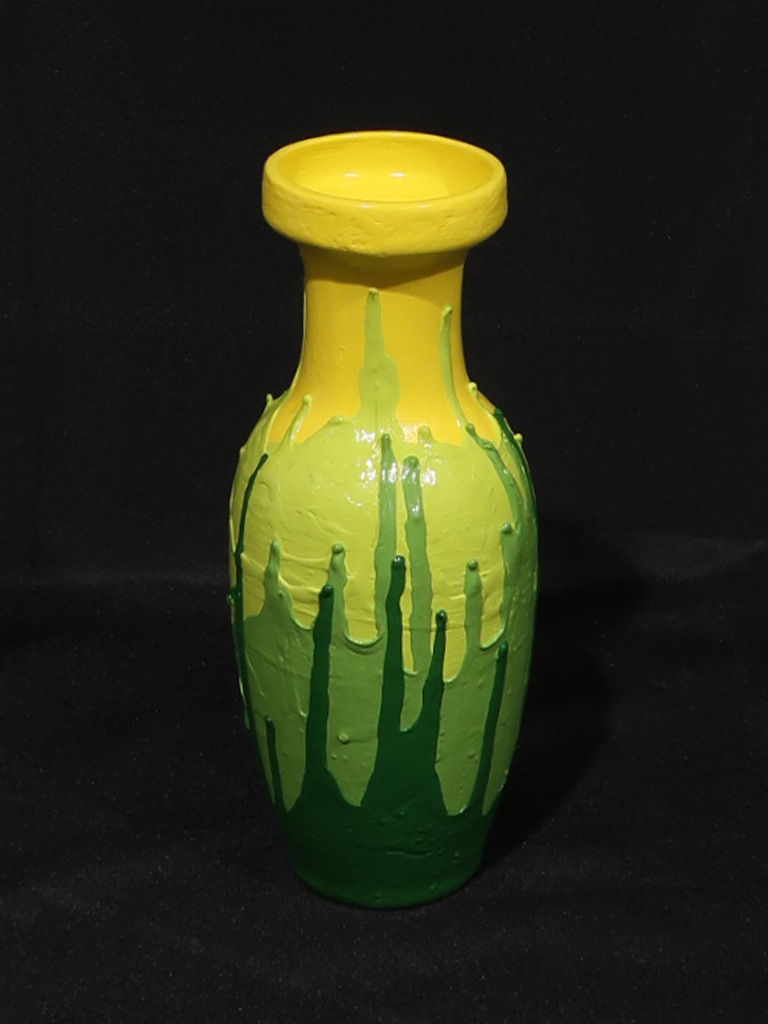 THE WORLD WE KNOW
Vase with a primary color scheme (I did have some different values of each color; burgundy, egg white, baby blue, etc). Taking a vase I bought from the store I sand blasted, primed, sanded, and then spray painted it yellow. As you can probably tell, this was made simultaneously with the previous project. Same deal except I broke this one (on purpose). Using acrylic paint, and red and blue spray paint, I tried to color each piece with a different style (stripes, blobs, geometric, etc). I got my inspiration from the works of Wassily Kandinsky and Paul Klee, both who were contemporaries at Bauhaus. This is called The World We Know because some of the pieces show what we see on our planet or our idea of our planet; the globe, the ocean, the moon and stars, a picket fence, and a city grid.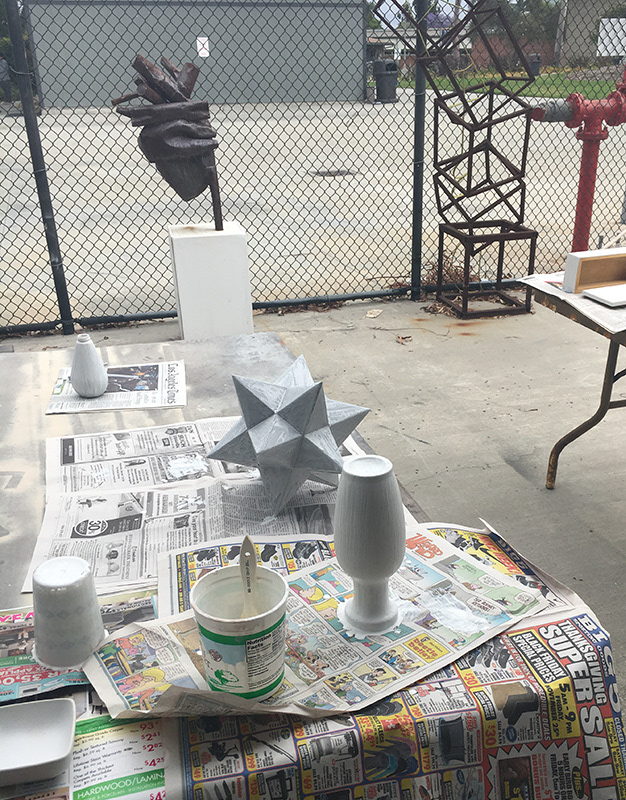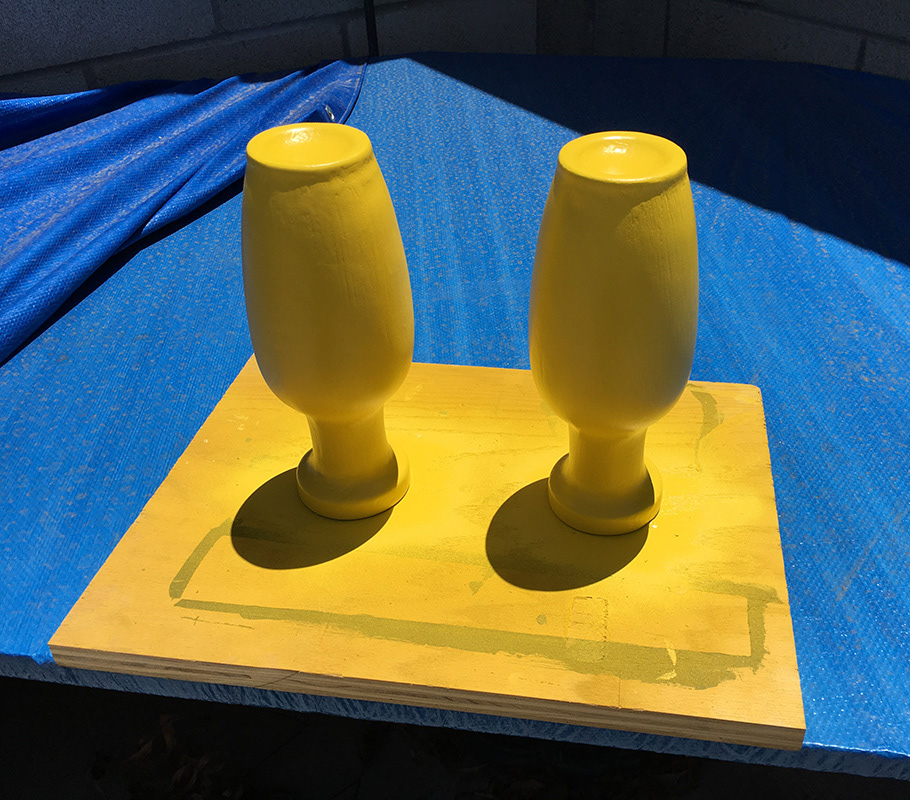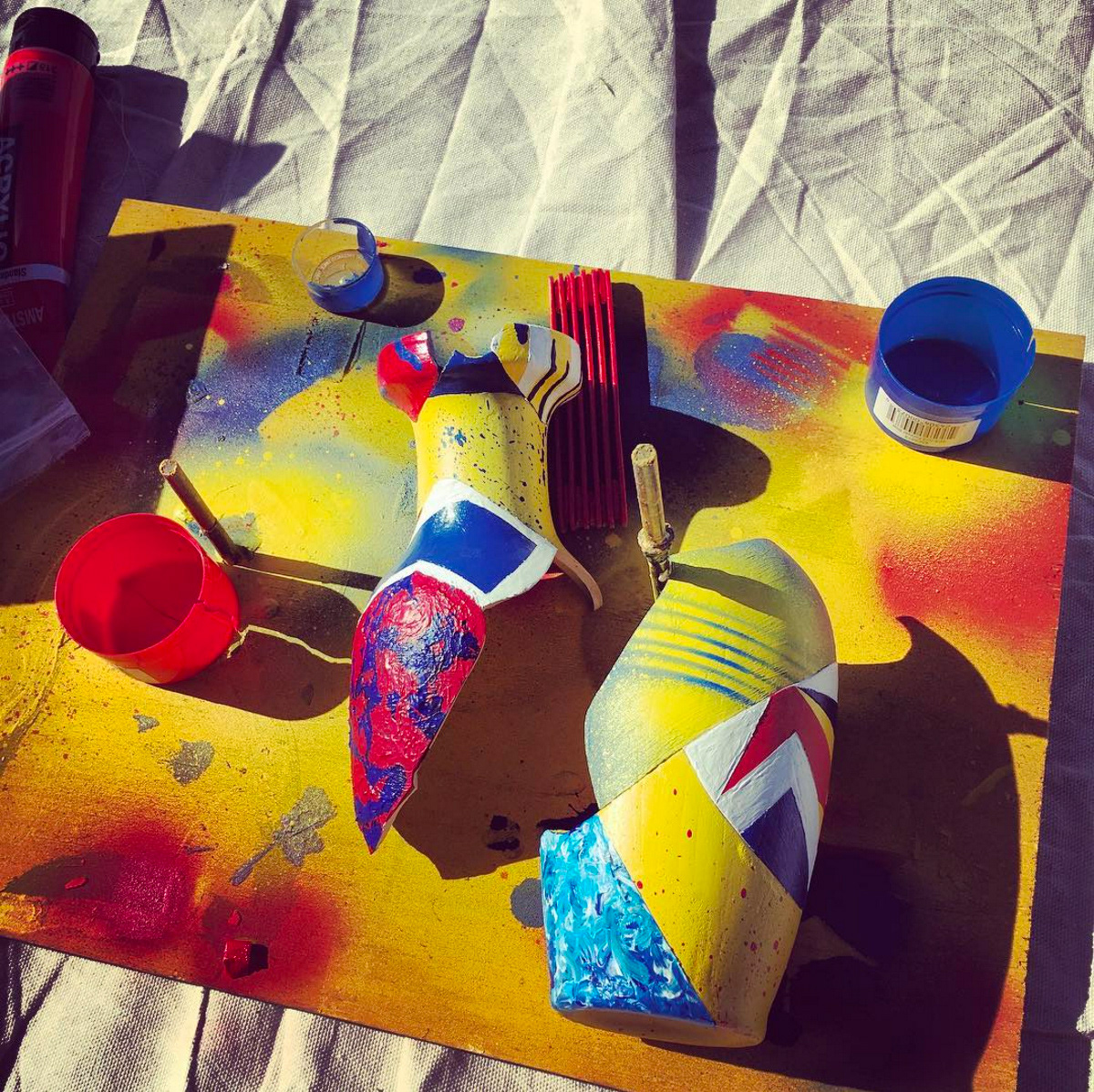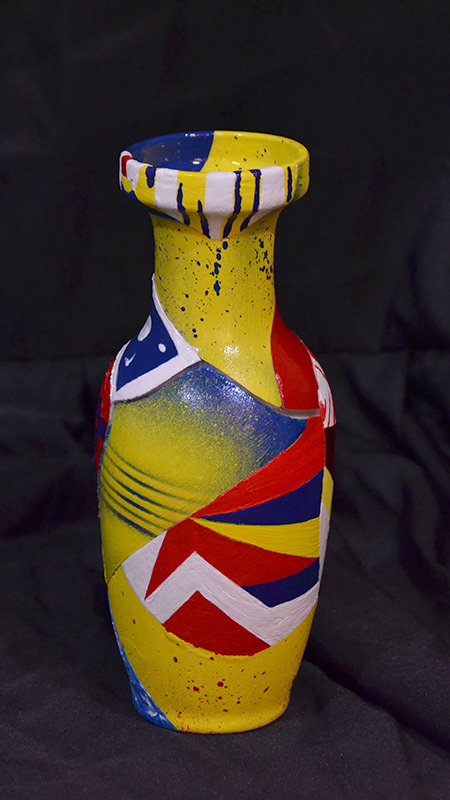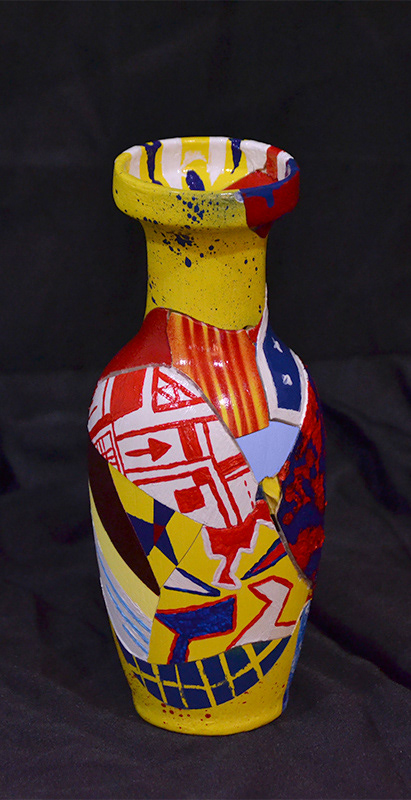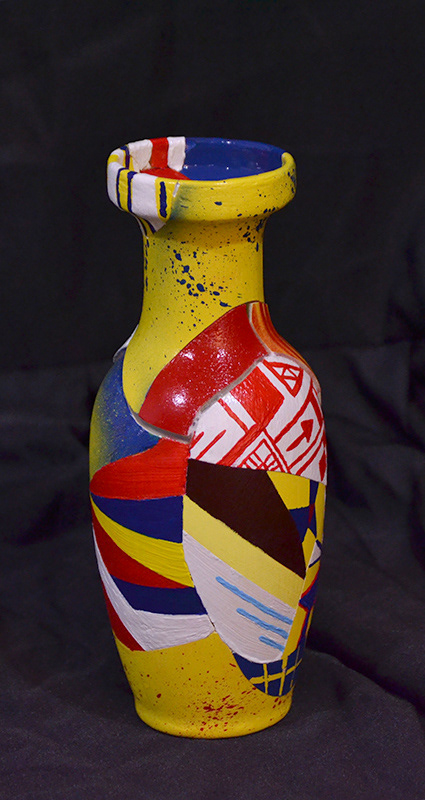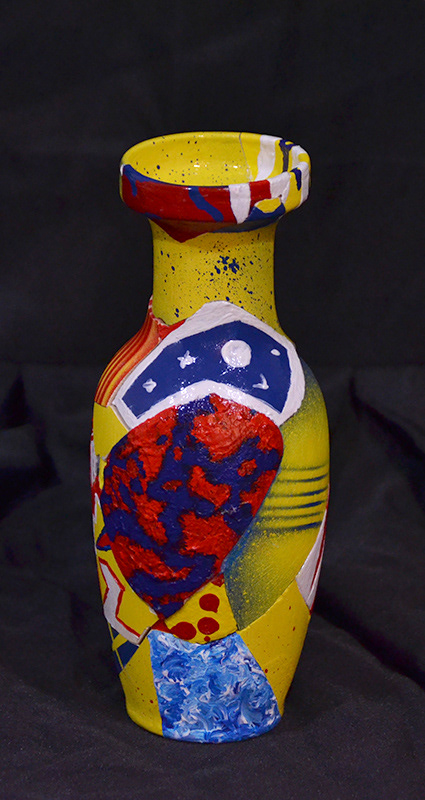 BORN 2 DIE
Born 2 Die is a tribute to the 2012 album Born To Die by Lana Del Rey. I first caught wind of this record because of hip hop artist Joe Budden, who sampled Off To The Races for his song Off 2 The Races (track 7 from 
A Loose Quarter
). In a way it was dedicated to them both, but mostly Lana.
1) Born To Die - Snow Leopard vodka bottle, oxymoron to the phrase "Cats have 9 lives"
2) Off To The Races - 12 jockey figurines racing, indicating 12 tracks on the album
3) Blue Jeans - 1 building resembles a clocktower correlating to a line in the hook "I will love you 'til the end of time, I would wait a million years"
4) Video Games - Circuit board scrap; video games are computer programmed
5) Diet Mountain Dew - 1 building resembles an hourglass correlating to a line in the hook "Do you think we'll be in love forever?"
6) National Anthem - 1000 Stories zinfandel bottle, American bison
7) Dark Paradise - A bag of salt is supposed to be a little pillow, correlating to a line in the hook "Every time I close my eyes"
8) Radio - Mini speaker on clocktower
9) Carmen - A crying eye and princess crown on the clocktower, symbolizing Carmen
10) Million Dollar Man - Dollar sign pendant hung over jockeys
11) Summertime Sadness - Gear stick correlating to a line in verse 2 "I'm feeling electric tonight, cruising down the coast going 'bout 99"
12) This Is What Makes Us Girls - Lana talks about her adolescent recklessness, hence the beer bottles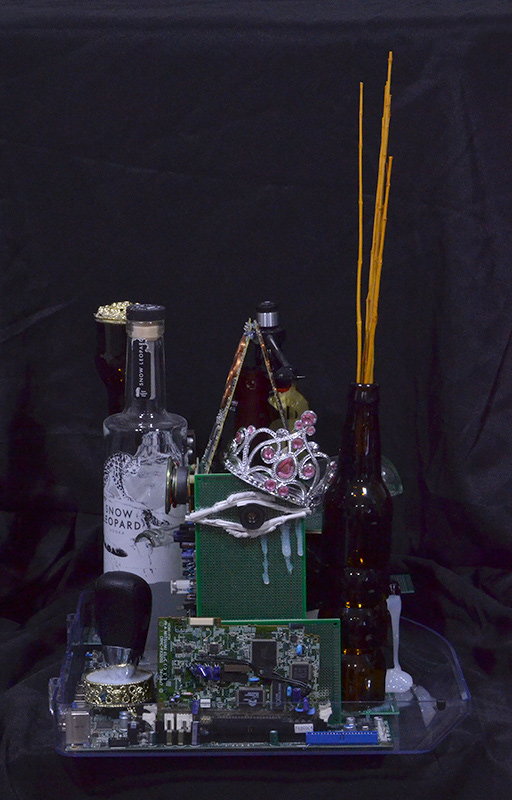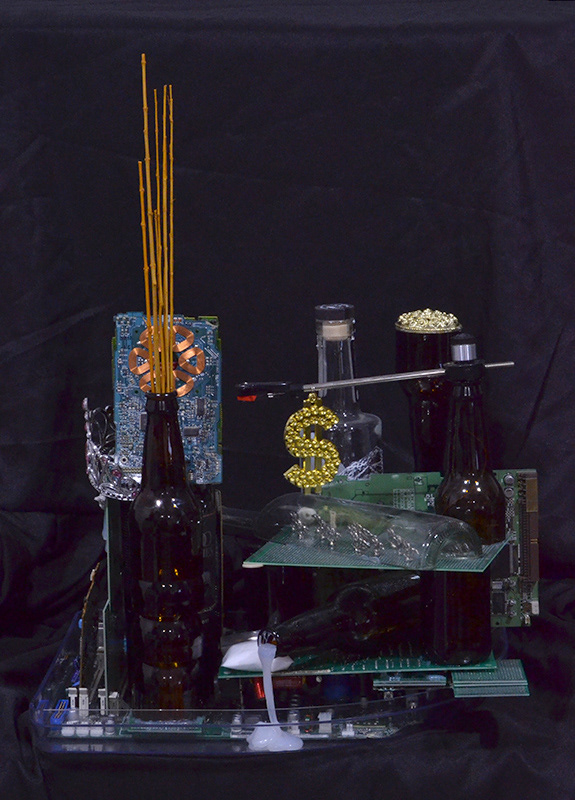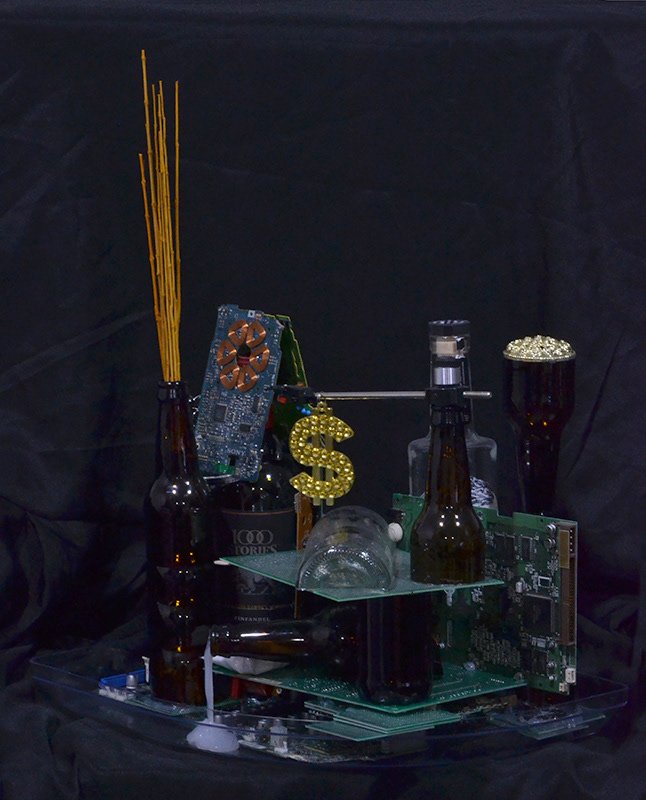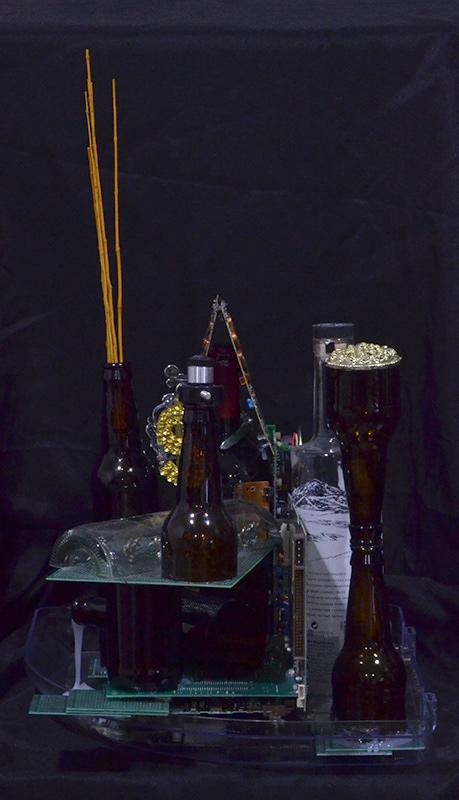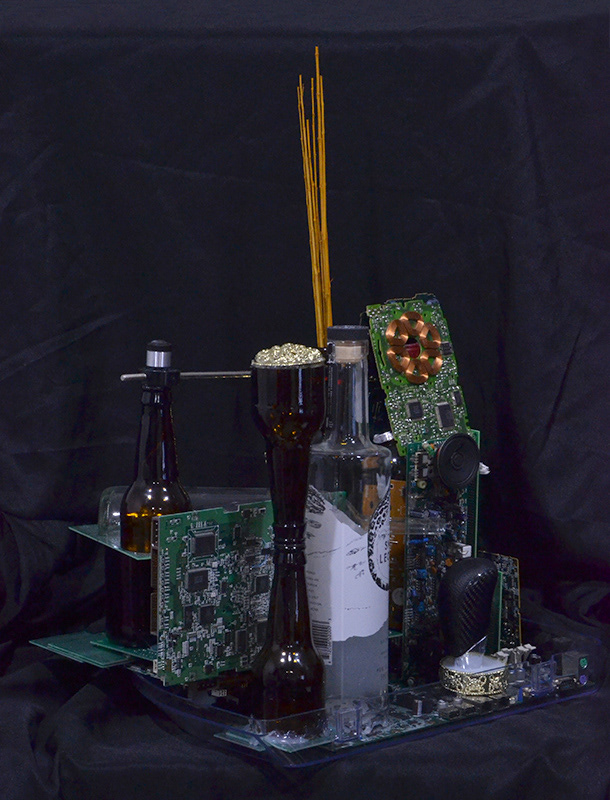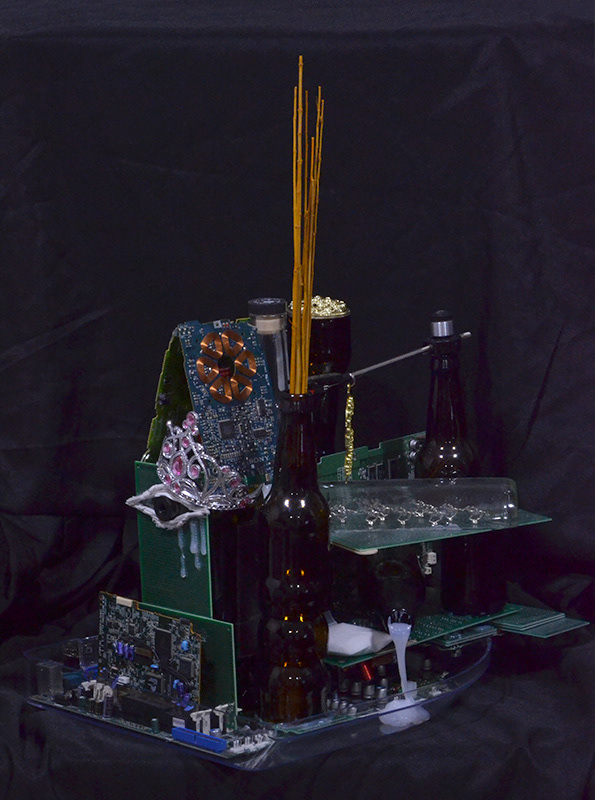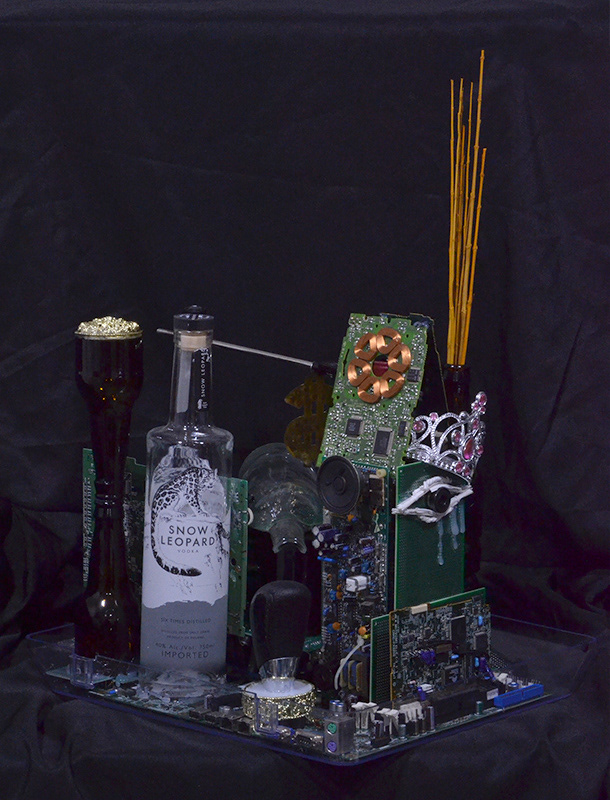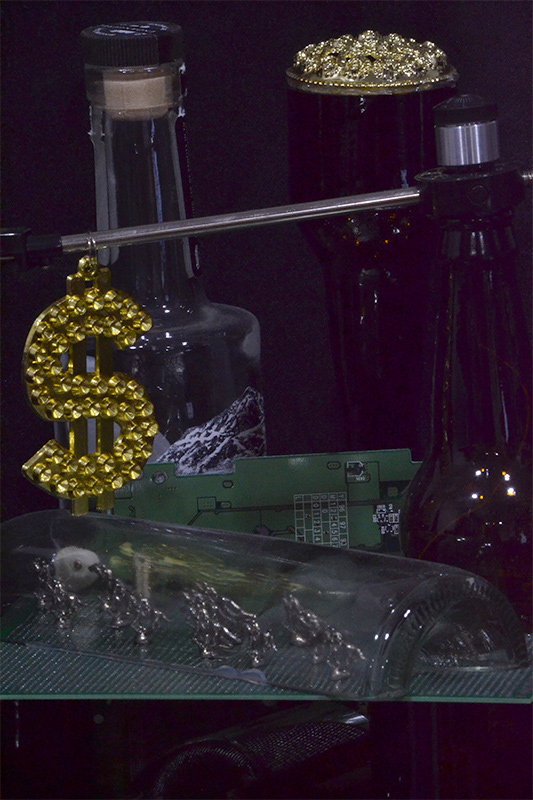 CANDLE HOLDER
A candle holder made for a hotel, to be displayed in a spa or gift store.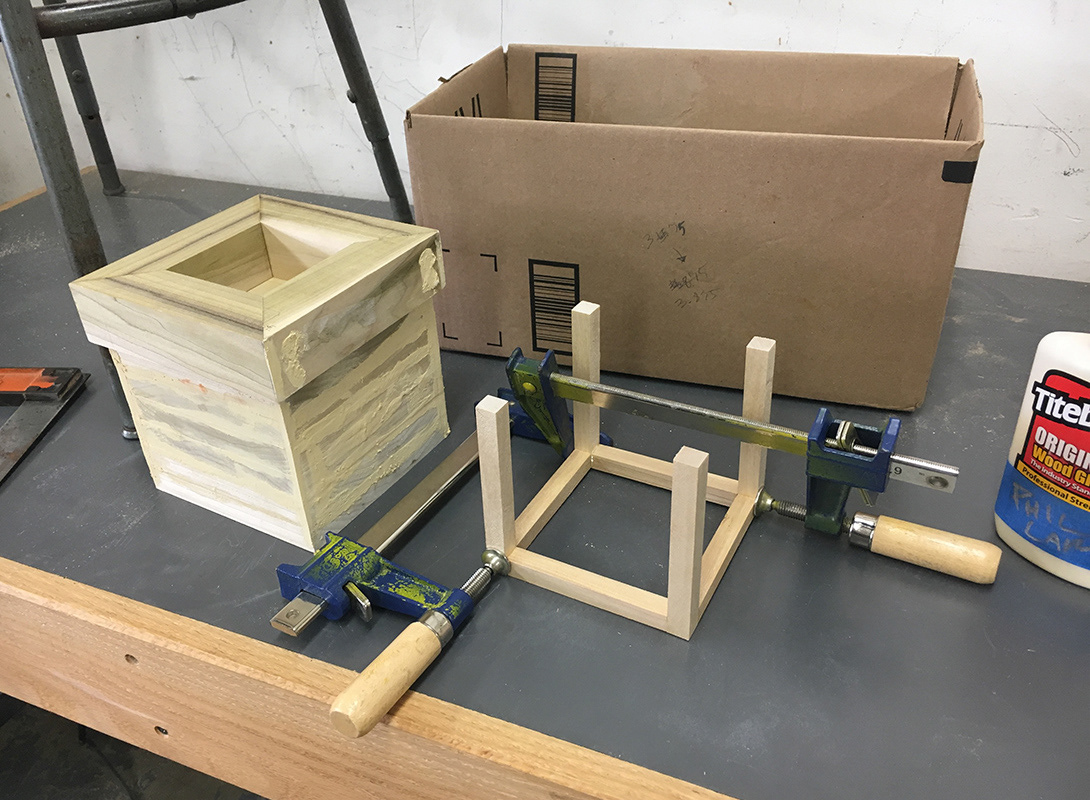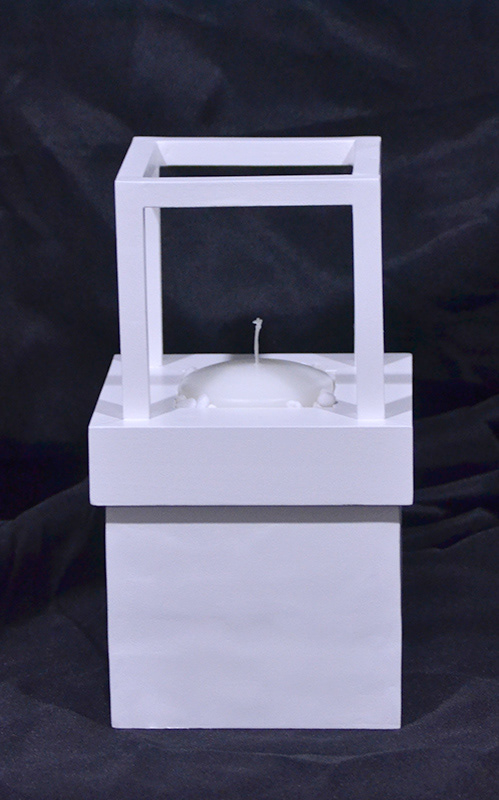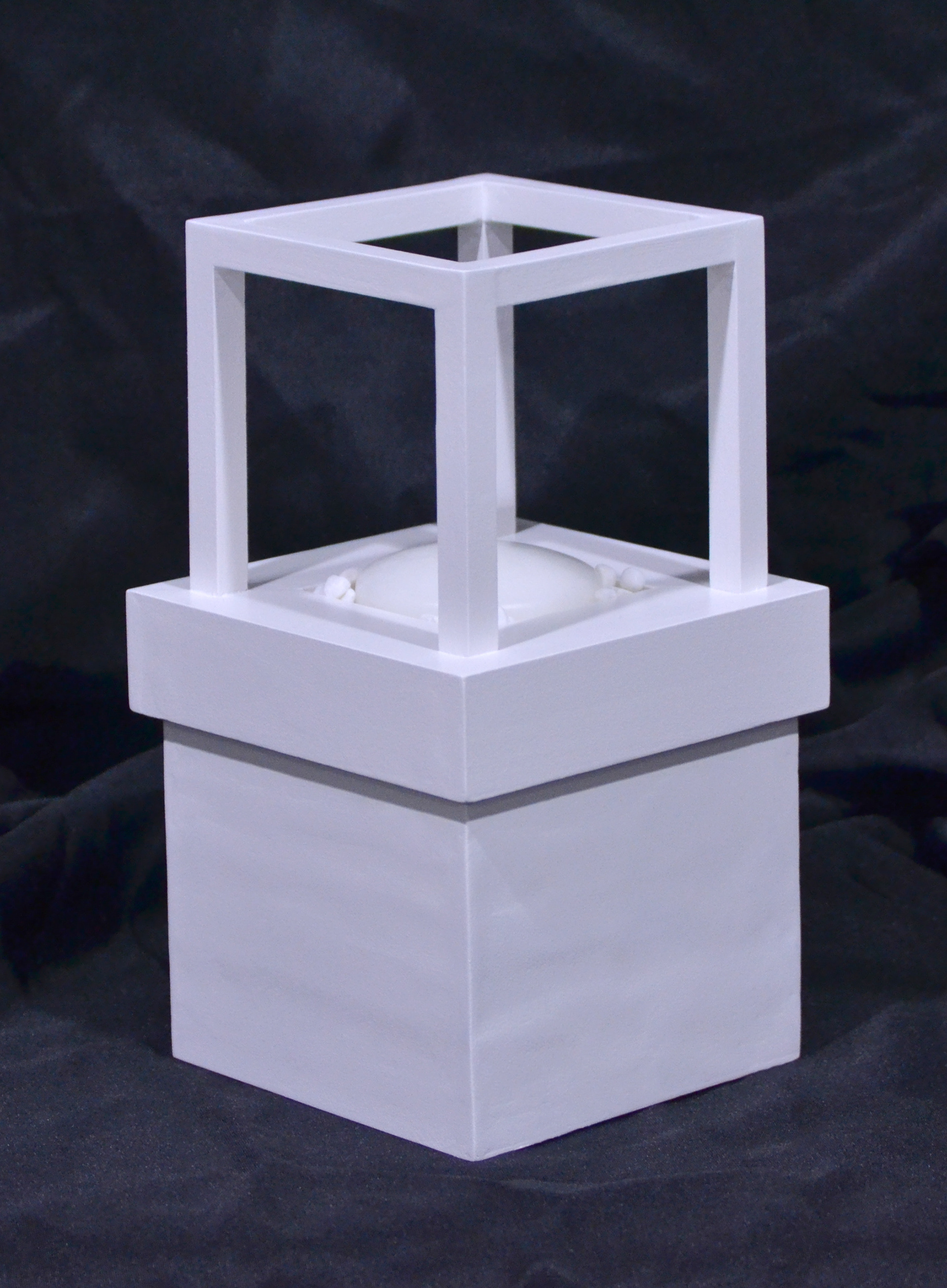 FALLING CITY
Dynamic form project.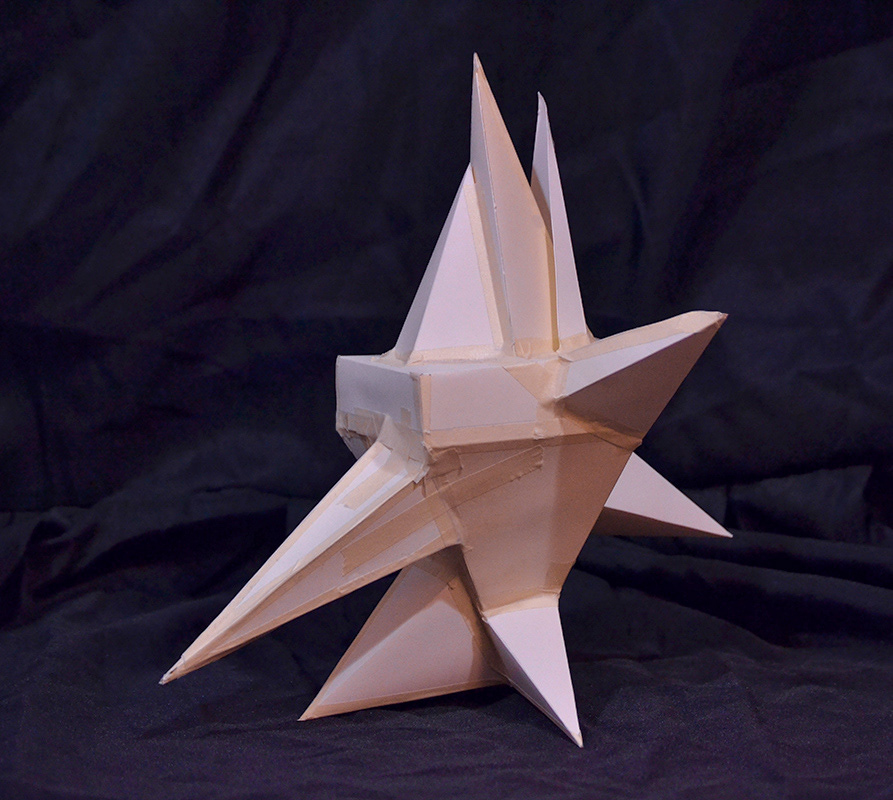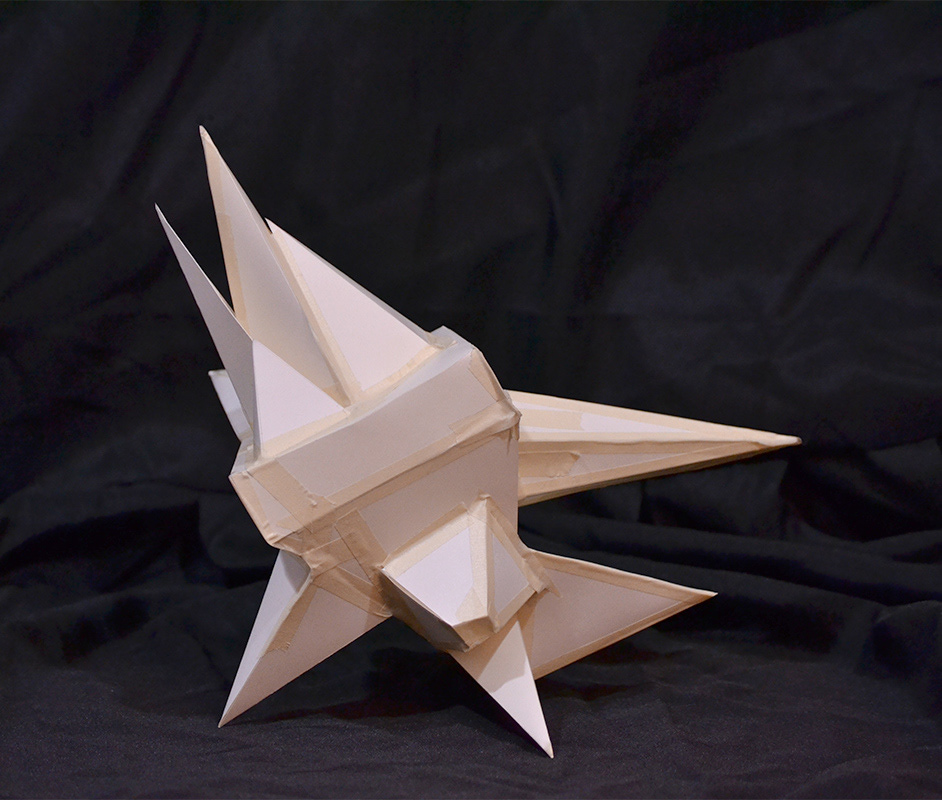 GOLDEN CHILD
Implied motion experiment. I created an object with implied motion; in other words, something that looks like it is moving forward, spinning, or falling. I chose a linear up and down movement, since my idea was to replicate a water drop. I had to construct flat plains and connect them to give a feeling of motion. I got a lot of bad reviews during critique however. People said it's boring, too symmetrical, and it looked more like a temple or a water fountain. If I were to do this again, I would have made every piece of foam board rounded to make my water drop more obvious and use some other type of pattern for my splash in the center.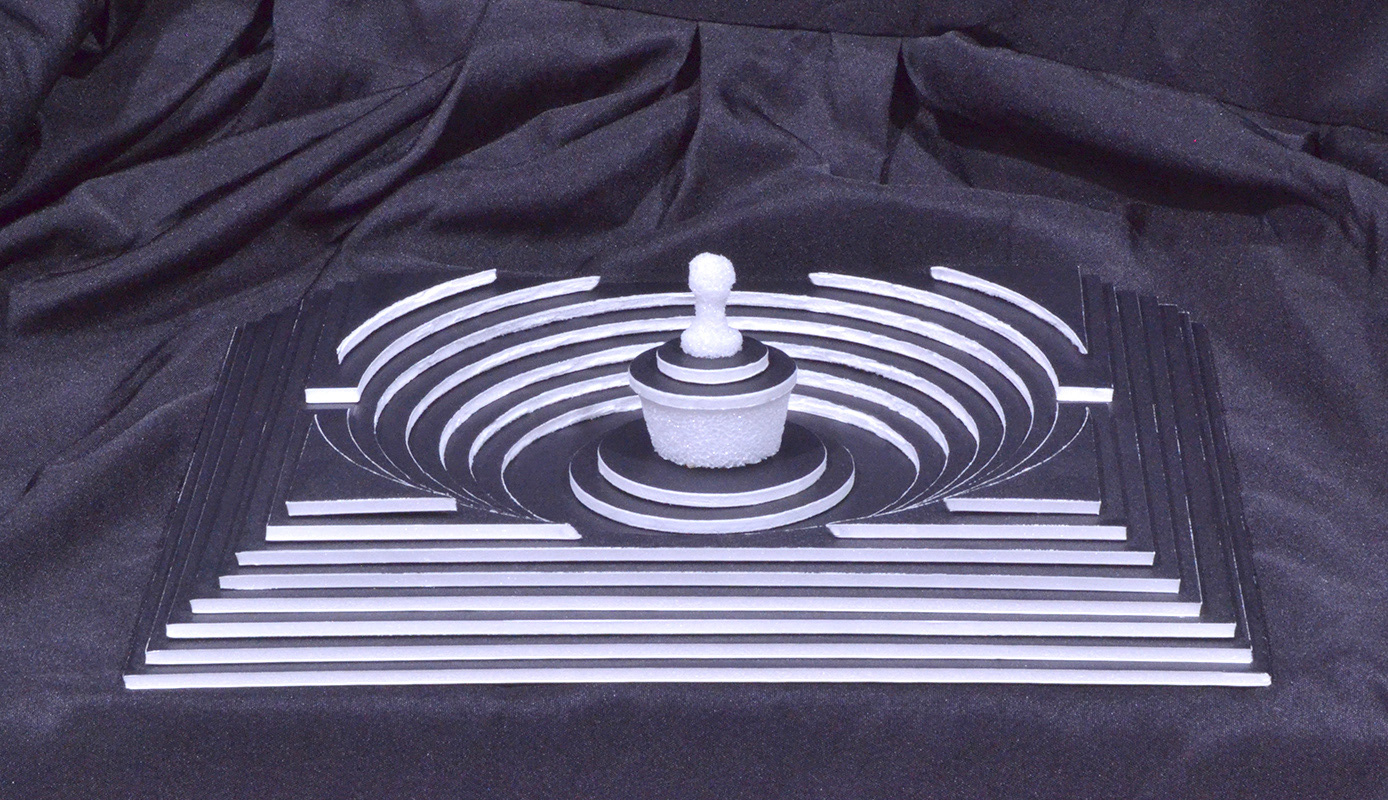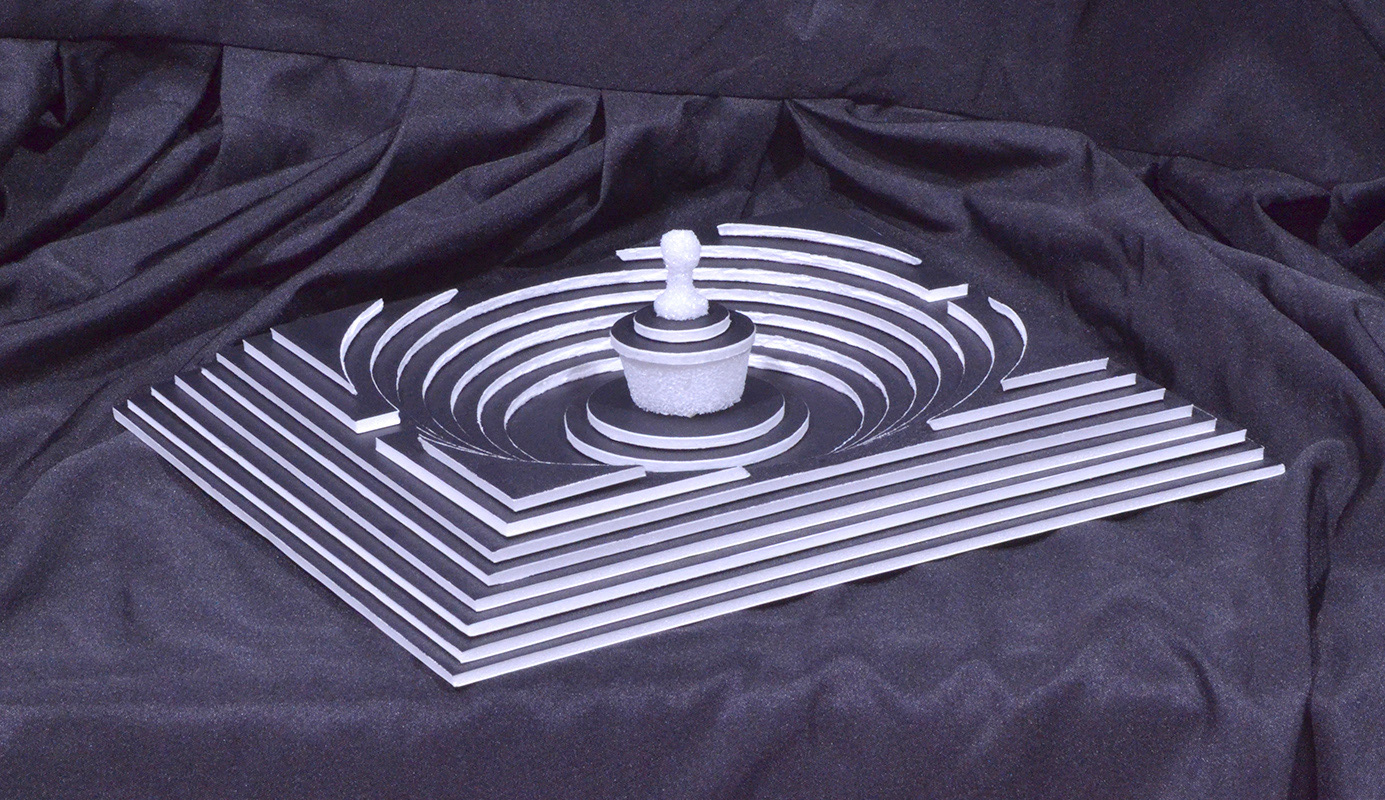 RED HEADED STEPCHILD
Made with leftover scrap pieces from my implied motion experiment.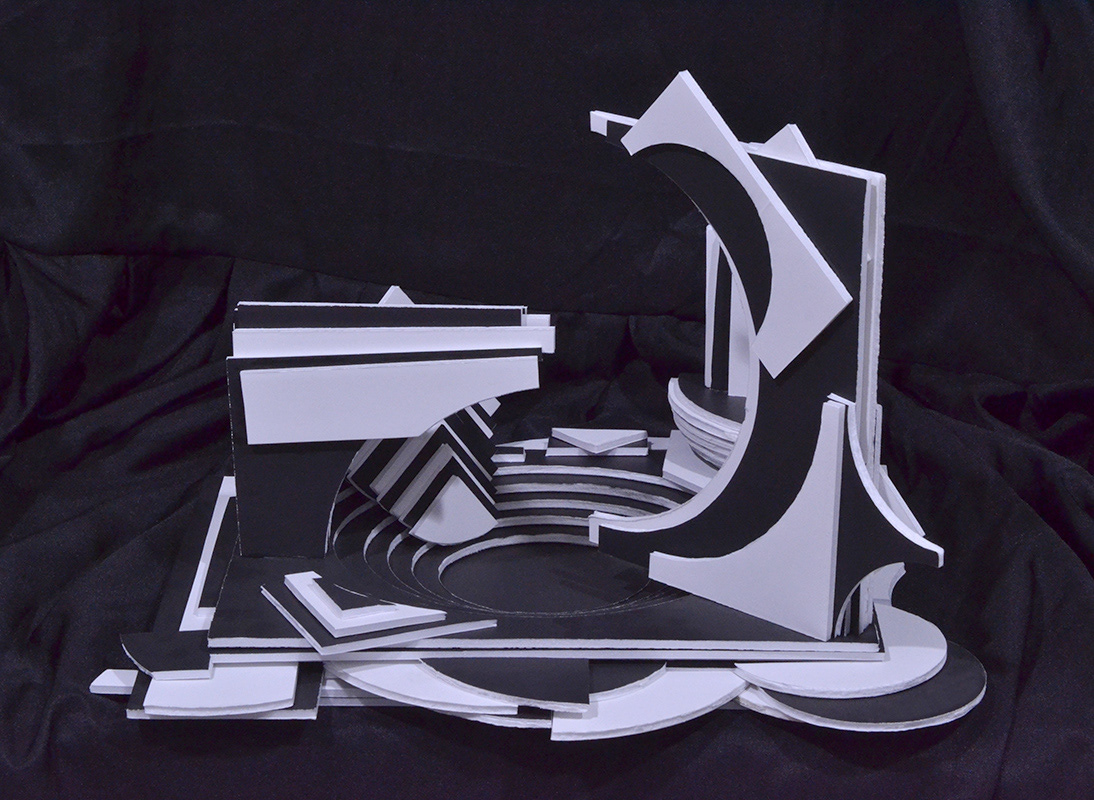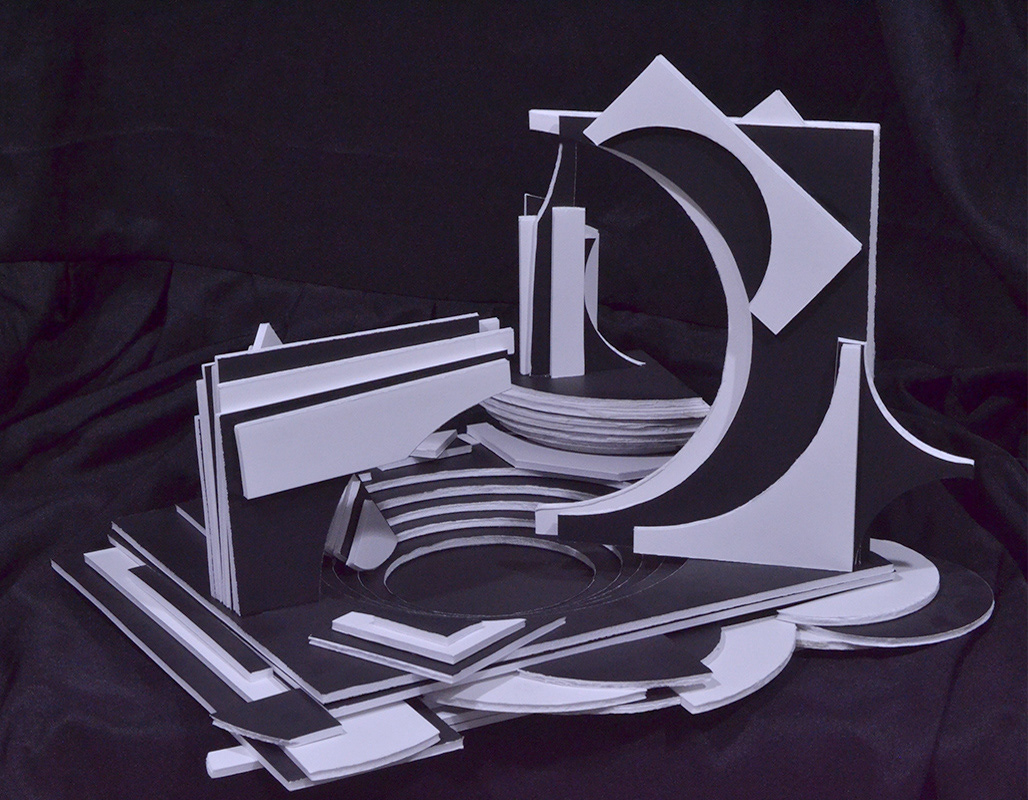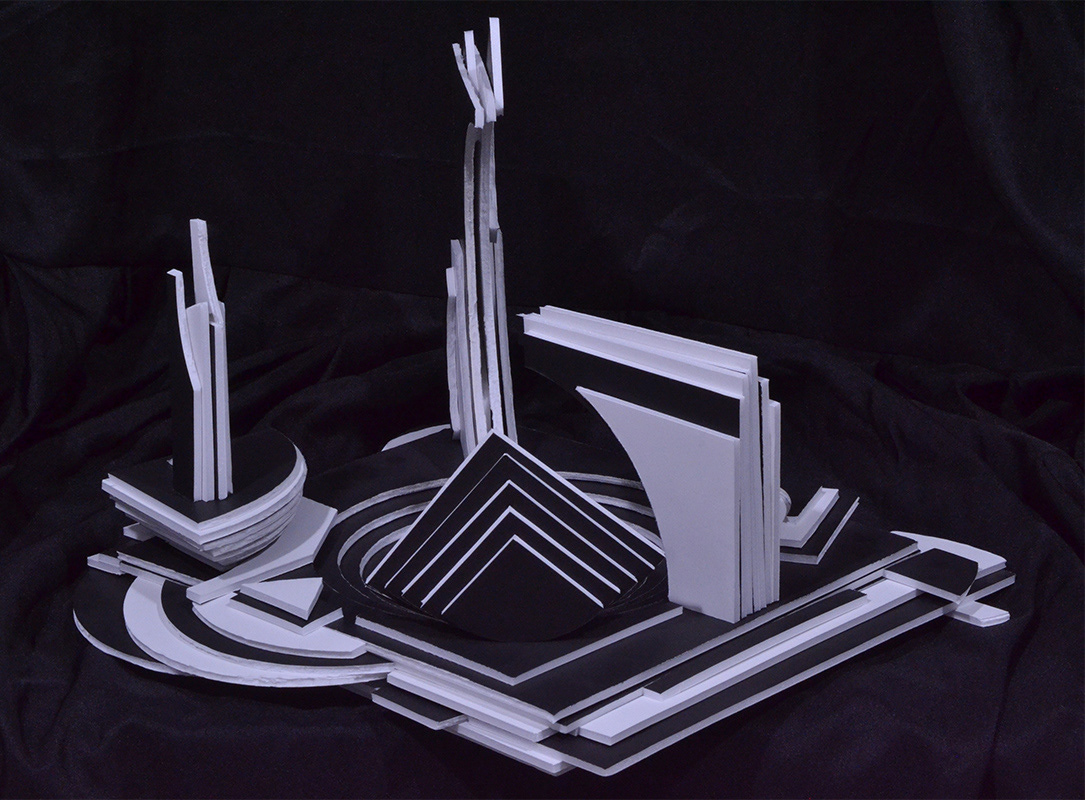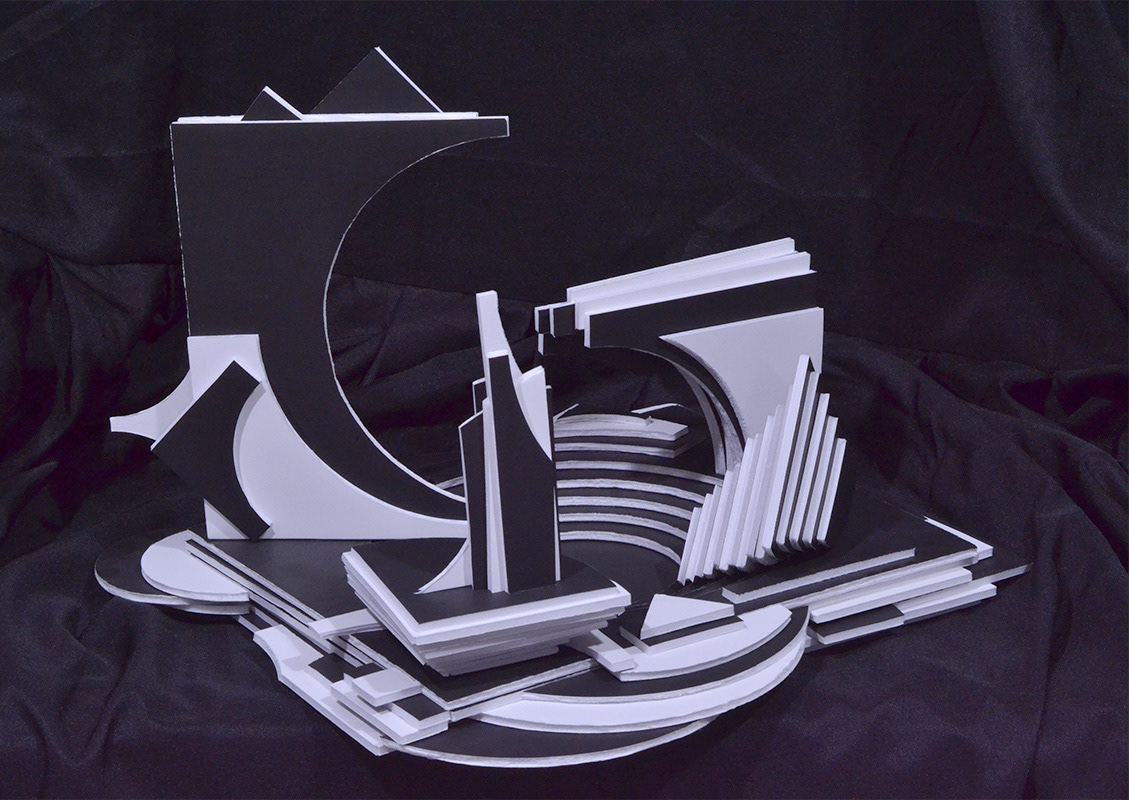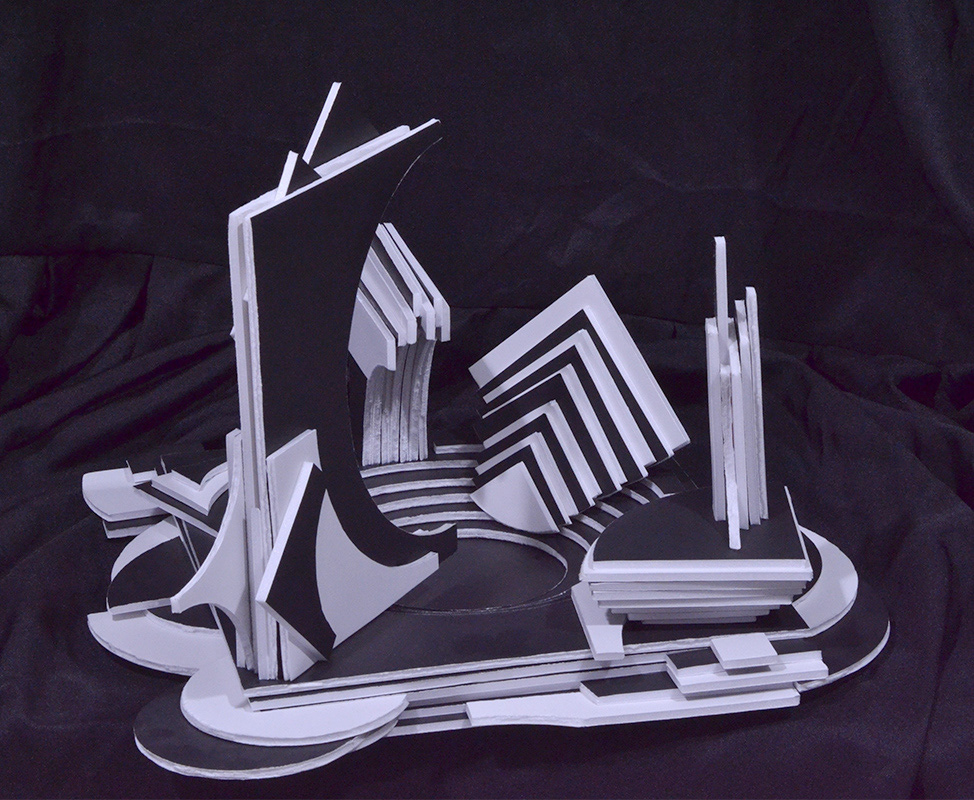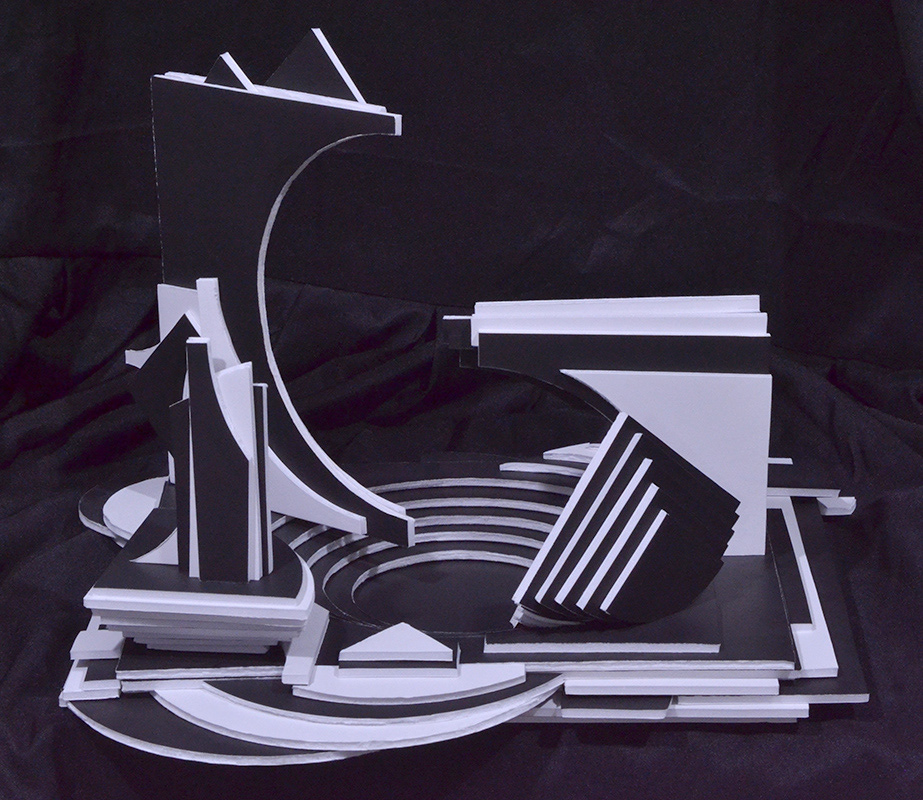 WIND PARADE
Solid body guitar experiment. In my sketches, I started with an idea of an animal kingdom (elephant, crocodile, owl). At one point I was thinking about combining all 3 and calling it Land, Water, and Air (correlating to each animal) but I really knew I was just thinking too much. I eventually went with an owl because of the nice swooshes drawn. I transferred my idea to full size using grid paper. I got a square piece of high-density polyethylene foam and trimmed it to proportion. I primed it with 2 layers of gesso and 2 layers of drywall compound, with numerous stages of sanding in-between. I applied it with metallic grey and gold paint before finishing it with gloss. It is named after the song with the same name by Donald Byrd.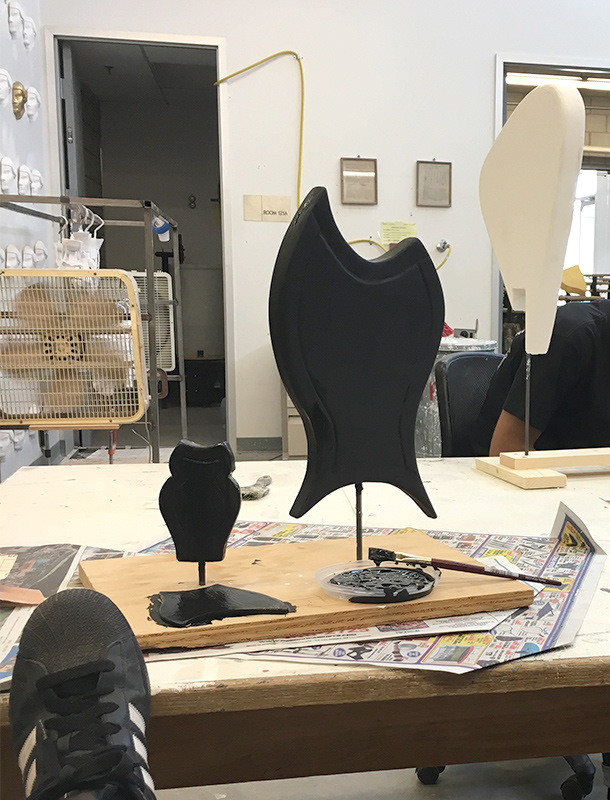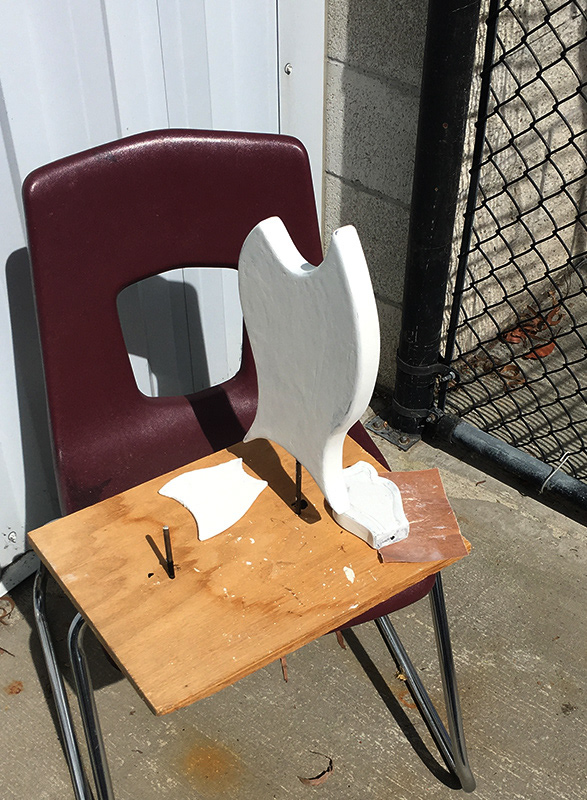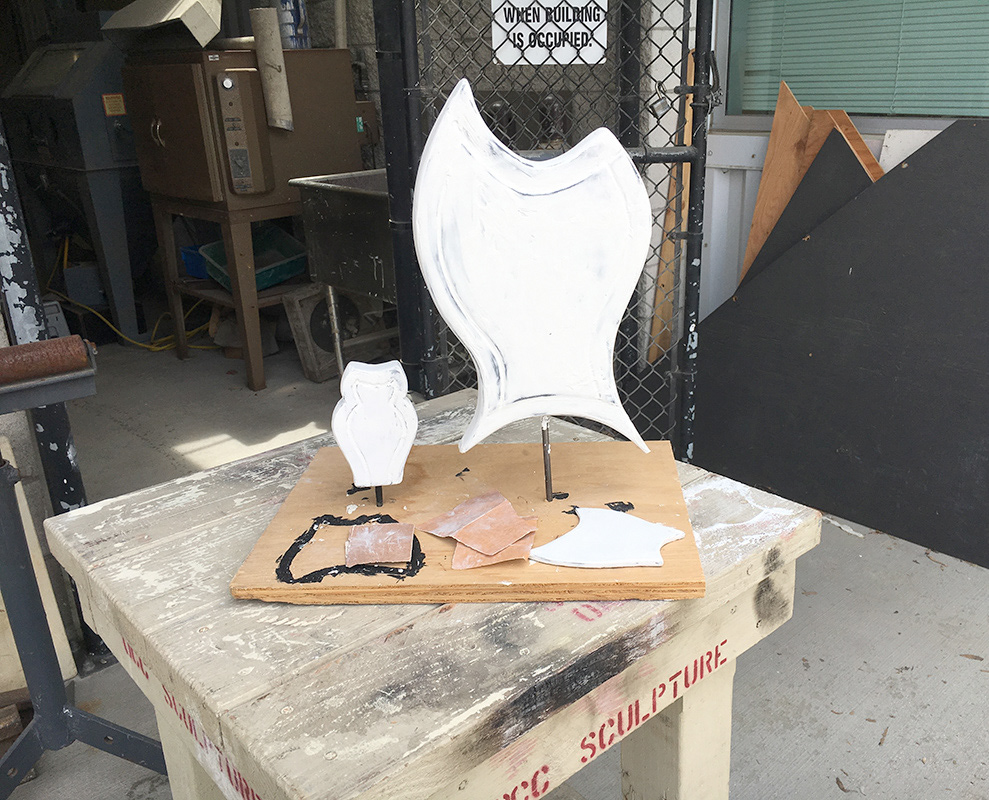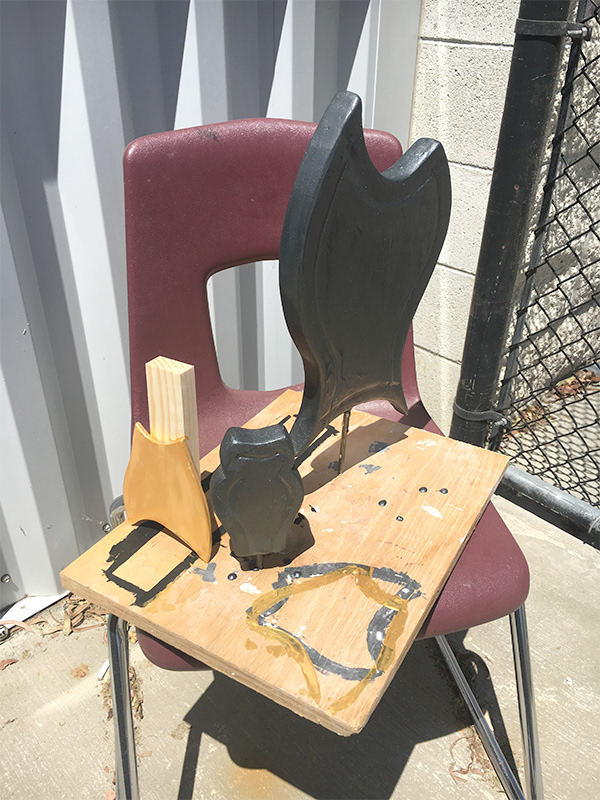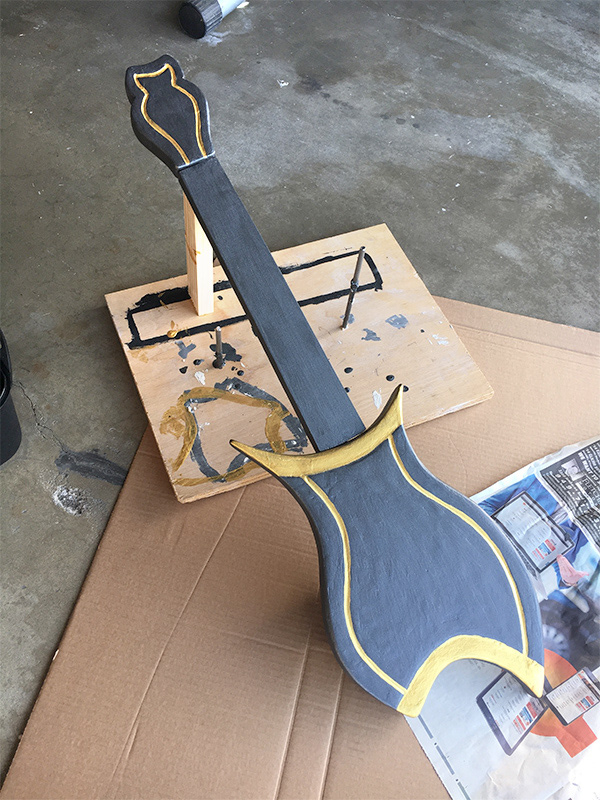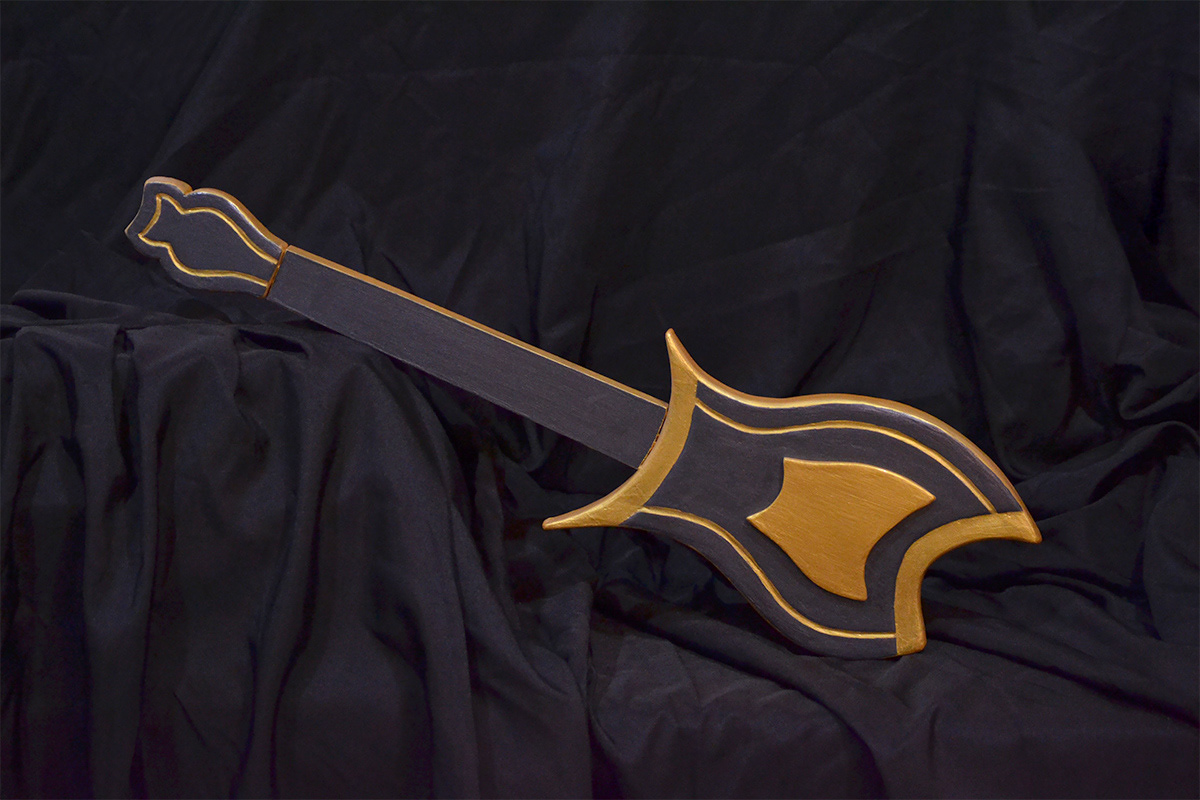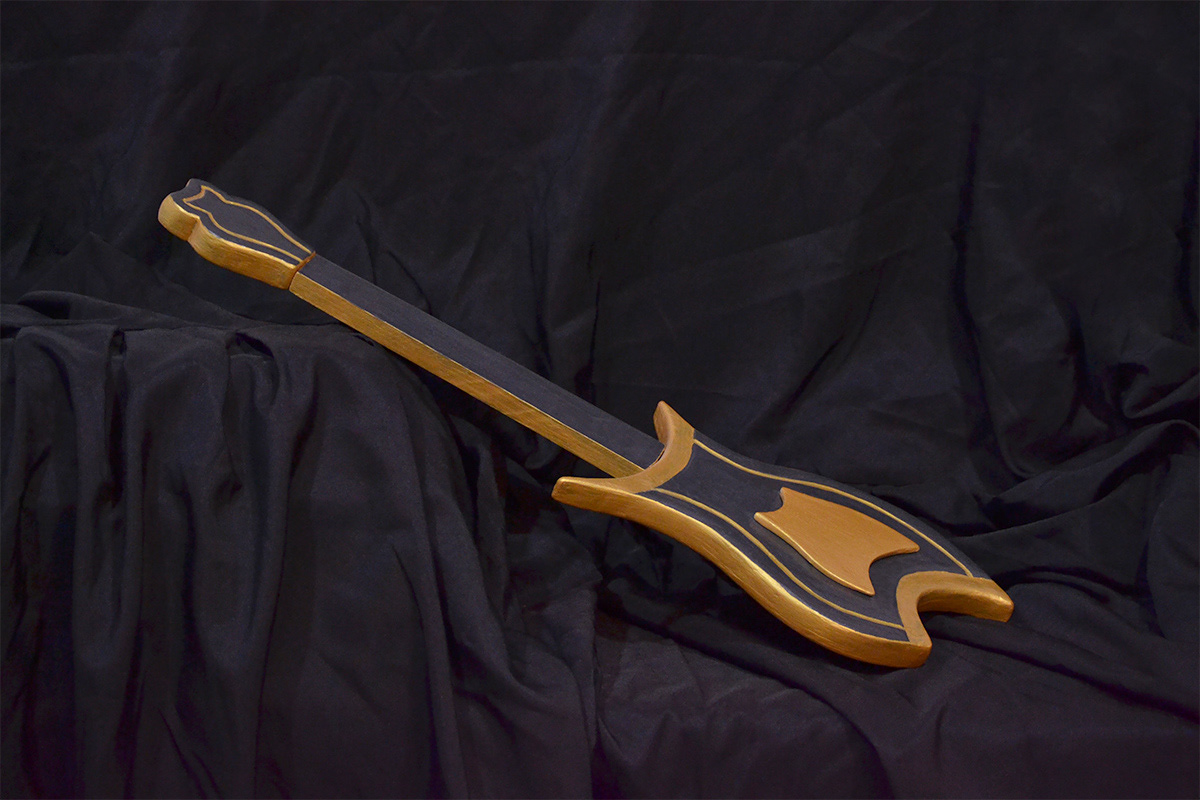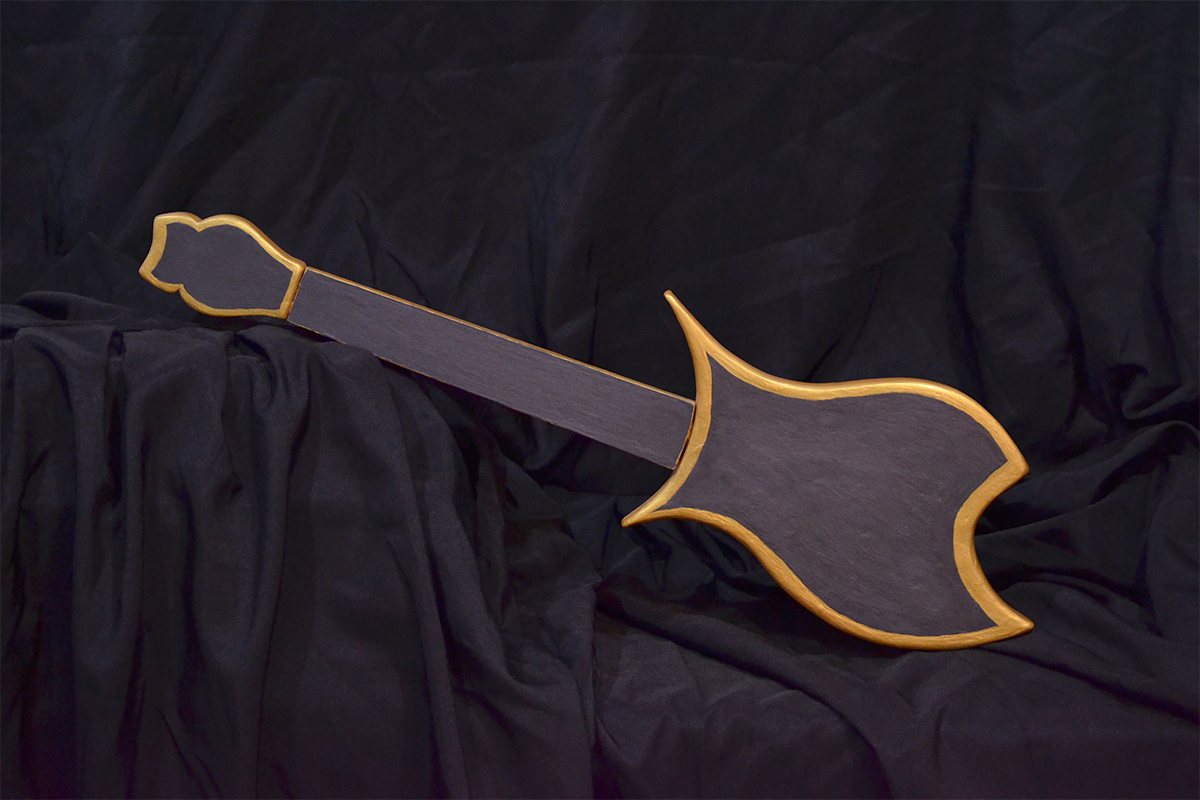 ZANE
Mechanical line project. This deals with repetition, variety, rhythm, balance, emphasis, proportion, and symmetry. I achieved the pointed edges of my craft sticks using a disk sander. It's called Zane because 4 letters can be seen on the face of this composition (Z, ae, N).